Cabaret Programs

Andrea has explored the less usual songs related to New York,
Program song lists
songs about wishes, dreams and aspirations, and, in her New:
After the Bawl
show Rescued from Obliv', "the songs we forgot to
remember and the songs in which we remember being
forgotten."
"Give 'em the Oo-la-la [a collection
of French music hall songs, Poulenc,
Piaf and American songwriters' views
of France] is "one of the most
interesting programs around...she has
a beautiful and ample voice."
-- Roy Sander, Back Stage
She made her Metropolitan Room debut in 2016 with "
Almost Like Being in Love (songs on the cusp of love)
", with pianist Barry Levitt and bassist Jon Burr.
Read about it here
.
Sample Program: It's About Time (with the late Paul Trueblood)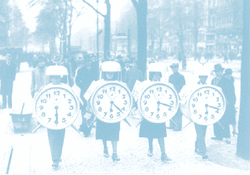 Marching Along with Time
(cut from
Alexander's Ragtime Band
)
Irving Berlin (1938)
You'll Never Be Missed 100 Years from Now
Billy Rose, Mort Dixon & Redmond Farrar (1926)
Round About
(from
Sweet Bye and Bye
)
Vernon Duke & Ogden Nash (1946)
The Circle Game
Joni Mitchell (1974)
I'm Old Fashioned
(from
You Were Never Lovelier
)
Jerome Kern & Johnny Mercer (1942)
I'm a Fan of the Last Fin-de-Siècle
Andrea Axelrod (2003)
Ages Ago
(from Time Remembered)
Vernon Duke (1947) [arr. Roger Vignoles]
O Mistress Mine
Arthur Young & William Shakespeare (1976ish)
The Sprig of Thyme
Trad. British Folk Song, set by Percy Grainger (1920)
Au printemps
Jacques Brel (1958) (English lyrics by Andrea Axelrod)
The Shortest Day of the Year
(from
The Boys from Syracuse
)
Rodgers & Hart (1938)
Night Waltz
(The Sun Won't Set) (from
A Little Night Music
)
Stephen Sondheim (1973)
When You're Racing with the Clock
(from
The Pajama Game
)
Richard Adler & Jerry Ross (1952)
I'm Late
(from
Alice in Wonderland
)
Sammy Fain & Bob Hilliard (1949)
About a Quarter to Nine
(from
Forty-second Street
)
Harry Warren & Al Dubin (1935)
The Husband's Clock
Traditional Cockney Song
Tico Tico No Fuba
(used in
Bathing Beauty
[1945])
Zequinha Abreu & Aloysio Oliveira (English lyrics by Ervin Drake) (1943)
We'll Catch Up Some Other Time
(from
On the Town
)
Leonard Bernstein, Betty Comden & Adolph Green (1945)
---