Specialty Lyrics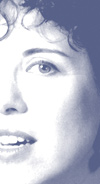 As an entertainer who continues to work in the worlds of journalism, marketing communications and special event planning, Andrea has the sensibility as well as
the wit to tailor programs and customize lyrics for unique business and social occasions.
Here Andrea Axelrod & Alan Siegal update Noel Coward's
There Are Bad Times Just Around
the Corner
(The Globe Revue, 1952), which suggested a passive response to the then topical bogeymen of the Red scare and the A-Bomb (amidst veddy British references). Below, Coward's words are in caps; you can blame Andrea for the other lyrics that make this one of A&A's "Songs for the New Depression".
They're SKITTISH in Schenectady
And QUERULOUS out in Queens,
In Cedarhurst they're about to burst
and living beyond their means.
It's painful in Mamaroneck --
The tide's turned in Oyster Bay.
They're scared as hell at the opening bell,
The close makes them swoon away!
The brokers groan and grieve, LADS,
because the whole system's broke.
They've nothing up their sleeves, LADS,
can't sell a pig in a poke.
HOORAY! HOORAY! HOORAY!
MISERY'S ON THE WAY!
THERE ARE BAD TIMES JUST AROUND THE CORNER,
THERE ARE DARK CLOUDS HURTLING THROUGH THE SKY
AND THERE'S NO USE WHINING
ABOUT A SILVER LINING
WHEN WE KNOW FROM EXPERIENCE THAT THEY WON'T ROLL BY.
WITH A SCOWL AND A FROWN
we'll swig our whiskey down
AND PREPARE FOR DEPRESSION AND GLOOM AND DREAD.
WE'RE GOING TO UNPACK OUR TROUBLES FROM OUR OLD KIT BAG,
turn out the lights and stay in bed.
They're bellicose in Belarus
and TERRIBLY CROSS in Rome.
There's not a man in the Taliban
who wouldn't blow up your home.
And Iceland's melancholia
is darker than beer can quench.
In France they're scared that the market's merde
(if you'll excuse my French).
With every Russian mogul's
enterprise on the fritz,
who'll mint the brand new rubles
for Putin on the Ritz?
HOORAY! HOORAY! HOORAY!
Decadence and decay!
THERE ARE BAD TIMES JUST AROUND THE CORNER
THE HORIZON'S GLOOMY AND surreal,
THERE ARE BLACK BIRDS OVER
THE GRAYISH CLIFFS OF DOVER,
and for each maid of honor there's a Madoff steal.
When the world won't give thanks
for loan-defaulting Yanks,
and our primary export is fiscal fraud,
we're going to drink hard and party for our souls, souls, souls,
max out our cards and praise the Lawd!
From Anaheim to Baltimore
there's one collective kvetch,
The SHRIEKS and pleas
of Detroit's Big Three
are enough to make you retch.
So many folks cite Scripture
and can quote every line and verse;
start quoting Chapter Eleven,
'cause the market can still get worse!
When baby boomers hock rocks
from the Beltway to Bel Air,
they fear an empty lock box
for FICA and Medicare.
HOORAY! HOORAY! HOORAY!
Wretchedness and DISMAY!
THERE ARE BAD TIMES JUST AROUND THE CORNER
AND THE OUTLOOK'S ABSOLUTELY VILE.
There's an awfully sickly languor
from Battle Creek to Bangor.
WE ARE NOT GOING TO TIGHTEN OUR BELTS
AND SMILE, SMILE, SMILE.
Couch potatoes are we...
when there's uncertainty, we are certain
there's nothing much we can do.
We're going to knock back the vodka
till we're numb numb numb
and watch "The Love Boat" -- Season Two!
THERE ARE BAD TIMES JUST AROUND THE CORNER.
WE CAN ALL LOOK FORWARD TO DESPAIR!
For we couldn't be forlorner
in Flint or Grover's Corner,
for our nest eggs have vanished,
and our cupboard's bare.
If that's not enough for you,
just wait for avian flu,
and the worldwide calamity it will spread!
We'll watch as birds of a feather stick
and sicken us together,
AND WE'LL WAIT UNTIL WE DROP DOWN DEAD --
A LIKELY STORY,
farewell to old GLORY,
WAIT UNTIL WE DROP DOWN DEAD!
---