The Lads That Will Never Be Old

Order here (Customizable as a concert or concert lecture, as presented at UNLV and Butler University in Indianapolis)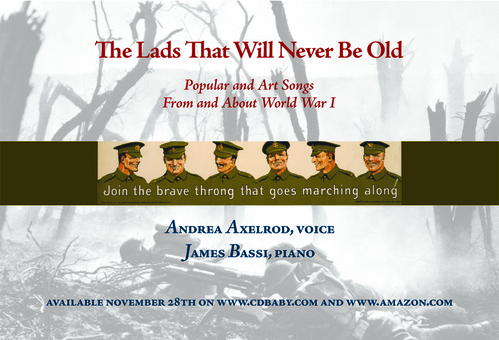 Many people collect World War I sheet music for the cover art.
I've always been just as interested in what's inside, however unsophisticated the tunes and lyrics tend to be. The cheerful, drum- thumping blitheness of some of these lyrics can
be startling, but then the songwriters were not interested in the horrors
of the battlefield but in romanticizing and exalting war in the name of King
and Country or Uncle Sam.
In 2007 in NYC, I presented a program I dubbed
War and Peace (Only Shorter): Songs of the Great and Not-so-Great Wars
, with my wonderful longtime collaborator, the late Paul Trueblood, at the piano. In 2013, in anticipation of the centenary of the outbreak of World War I, I decided to focus on the "Great War" alone, exploring the disconnect between the naive, golly-gee-we're-off-to-war and often jingoistic popular song lyrics of the period and the darker work of the great English WWI poets. Although some of the era's poets mine the sentiment that traditionally attaches to soldiering, others brutally evoke the carnage of this bloodiest of wars.
I allowed myself a certain amount of license in my song selections, as some poems (and music) pre-date the War but gained special meaning during the conflict. The Gershwins' "Strike Up the Band", on the other hand, was written in 1927 but looks back a decade. I've paired it with their "Yankee Doodle Rhythm", a song about the spread of American popular music that, to us in the 21st century, can sound like a dark metaphor for latter-day American military aggression.
It wasn't easy to choose among the thousands of war-related songs published during World War I (more than 7,000
in the United States alone!), and I began by limiting myself to songs from England and the United States. You'll recognize some chestnuts, but there are plenty of rarities, too. I'm proud to include two contemporary settings of
WWI poems, written especially for me: Isaac Rosenberg's "Returning, We Hear the Larks" is set by my cousin
Tristan Axelrod, a gifted composer and writer who has nevertheless opted for law school; and Rudyard Kipling's
bitter "Mesopotamia" is given a stunning setting by Tom Flaherty, a cellist and professor of composition at Pomona College. When I first performed it, in 2007, the United States was deeply involved in the Iraq war, and the parallels were precise and chilling.
They still are. I also include a reading of Siegfried Sassoon's "Trench Duty" as a placeholder until my new musical partner, Jim Bassi, writes a setting of it for me. Jim Bassi is a triple-threat musician – an extraordinary pianist in both classical and popular genres, a fine singer (listen to Track 17) and a sought-after composer – and it has been a joy and privilege to work with him on this project.
In addition to Paul Trueblood and Jim Bassi, my greatest thanks go to friends, supporters and colleagues who have made this recording possible in various ways – principally Karen Horton, Alicia Horwitz (the piccolo player for Ives's He Is There), Peter Karl, Rob Klingon, Gary Norden, Alan Siegal, Diana and Don Wagner, and William Wendroff. The recording is dedicated to all the Lads (and Military Women) That Will Never Be Old.
–
Andrea Axelrod, New York, November 2013
Program Notes
Lyrics | Song Covers | Additional notes
---