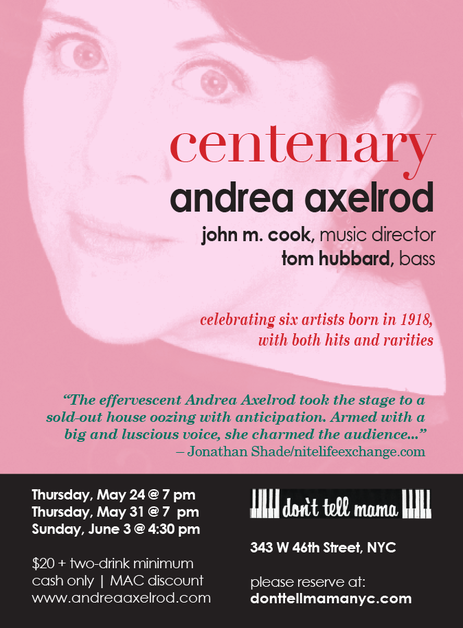 Click here for more information
about upcoming
centenaryAndrea Axelrod...a unique musical entertainer for cabaret, corporate events, social events and
pops concerts...and illustrated concert/lectures based on her CD: The Lads That Will Never Be Old:
Popular and Art Song From and About World War I .
...a singer often torn between The Blues in the Night and Mozart's Queen of the Night, Andrea surprises and enchants audiences with the beauty and range of her voice and singing style. Andrea's often offbeat choice of material for her shows, which listeners find both moving and funny, and her witty patter and specialty lyrics make for a singular cabaret evening or special event, drawing on her experiences and talents as a journalist, writer, lyricist and opera singer, as well as on her love (and vast knowledge) of American theater music.
Shishkebopera!
, her original one-woman opera comedy concert, founded on the notion that
to sing is heaven, to skewer divine
, keeps opera cogniscenti and neophytes listening and laughing. She has worked with such first-rate music directors as Paul Trueblood, Paul Greenwood and Barry Levitt.